Term Time Classes
Circuit Training- Tuesday 8:30am
Tone up and get fit across a variety of outdoor circuit training stations. This early morning body firm class works your upper body, core and lower body.  Suitable for both runners and walkers, this session focuses more on muscle toning than cardio fitness.  Building muscle is crucial to burning fat and so this class is the perfect complement to one of the other cardio focused classes.
Running Club- Thursday 9:00am
This course is excellent for both intermediate and more advanced runners who want the guidance and encouragement of group running to help establish and improve running confidence. Each session focuses on specific running skills such as hills, intervals and sprints and ends with an energising strength training session.  Sign up to this class if you are thinking of running in a race or trying to beat your PB.
Powerwalking- Friday 9:00am
A highly effective low impact alternative to running, this class is ideal for those who want to powerwalk at a very steady pace on flat and hilly terrain.  It combines fast walking with key strength exercises, giving a rigorous workout that burns calories and tones muscles.  If you struggle to run or just prefer to walk, power walking provides a great workout.  Joining the group class, led by an experienced trainer, provides the company of a likeminded group, removes the need to worry about route and ensures you build great technique.

The power of exercising in a Group
M
y groups are made up of a diverse mix of really interesting women. Over the years people have shared and laughed and wonderful friendships have been created. The connectivity of group exercise is a positive aspect of Green Fit and I feel continually grateful to these amazing and loyal gals. Newjoiners are always very welcome. Share a coffee after in the cosy café!
How silly will we look?
I try quite hard to operate discreet style classes. Therefore, it is not my intention that we all make a big spectacle of ourselves. I chose our strength training stops in quiet places and make adjustments based on what is happening in the woods. Highgate Woods is a busy shared space and it is important to be considerate of the other users: dog walkers, mums, children and the elderly.  The friendly Woodkeepers keep an eye on everyone.
What happens if it rains?
E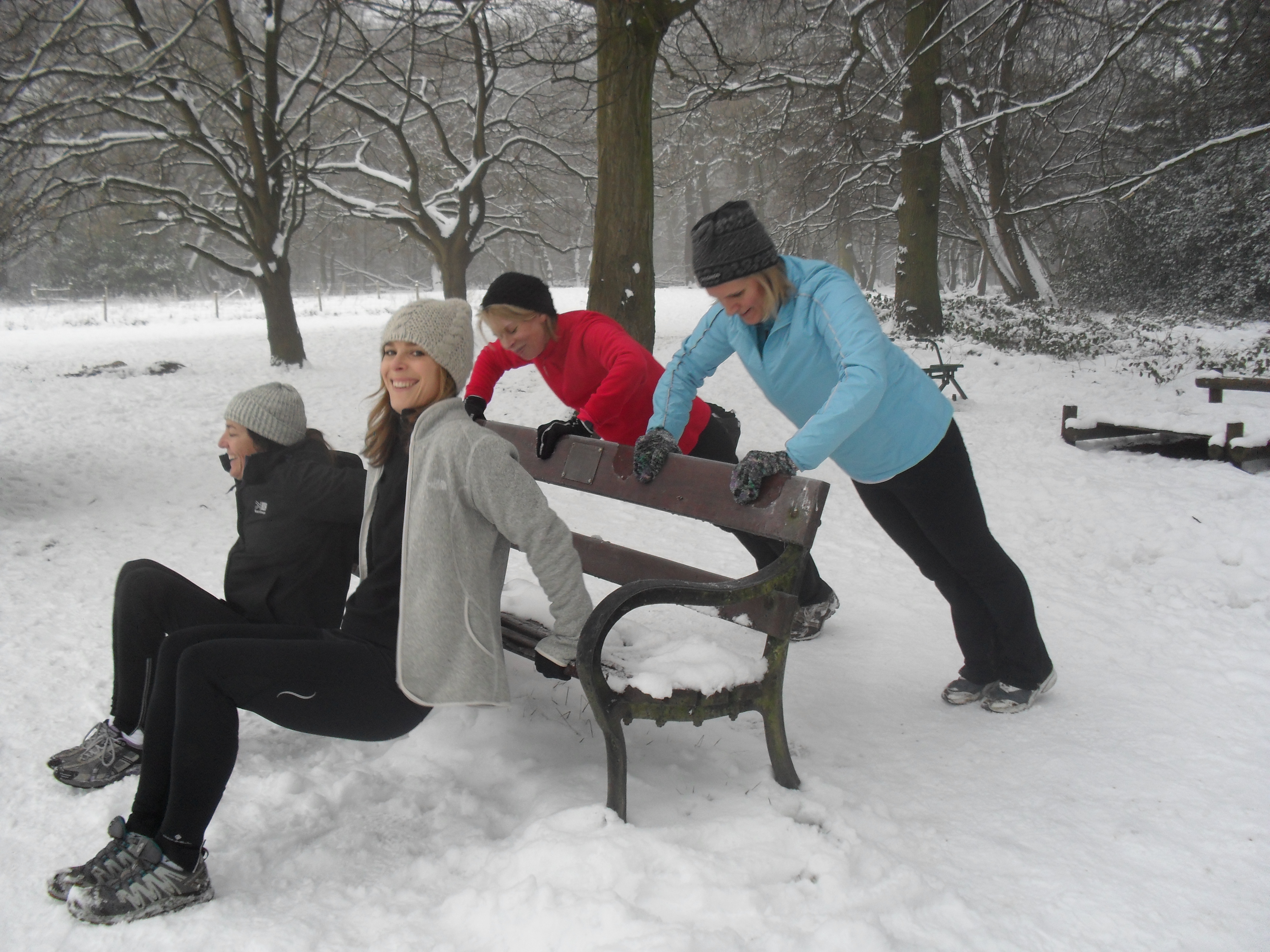 ngland certainly gets a mix of weather and Green Fit classes have faced it all: rain, snow, wind and also plenty of glorious sunshine. Part of the adventure of outdoor training is experiencing all the seasons, so the key is to layer up and find your true grit. You'll love it, classes never stop, no matter what the weather.